Dental Implants
Dentistry has a fascinating history, but we're grateful it's kept pace with technological advancements. Our deeper understanding of oral health and what's essential for it to be optimal led to the most natural-looking and feeling tooth-replacement solution available.
Introducing (maybe not for the first time): dental implants!
Dental implants are the highest recommended tooth replacement solution by both dentists and patients because they mimic your tooth roots, which keep your jawbone strong. When you think of dental health, you might focus on teeth and gums, which makes sense—they're what's visible, and before we gained knowledge of the oral-systemic link and how everything works together, replacing the crowns of missing teeth seemed sufficient. However, when a tooth root goes missing, your neighboring teeth may shift to fill the space, which can lead to more tooth loss. When this domino effect occurs, your jawbone may start deteriorating, which can change your speech patterns, facial aesthetics, and dietary habits.
Dental implants replace your tooth root—not just your crown.
A healthy tooth root prevents surrounding teeth from shifting.
Preserving your jawbone makes speaking, eating, and smiling easy.
Dental implants can help you if you've lost one tooth or all your teeth.
With dedicated care, dental implants can last a lifetime.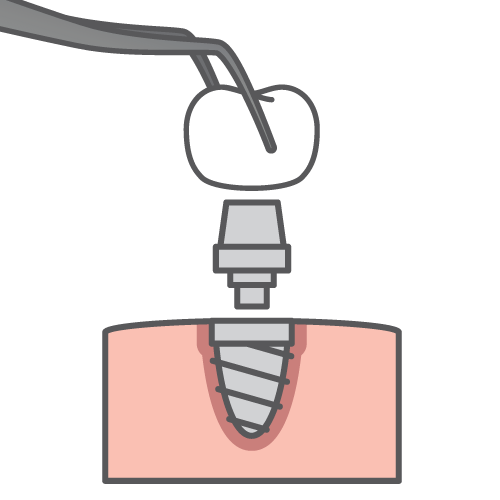 Dental implants do more than replace missing teeth.
The concept of dental implants seems simple enough, right? Instead of just replacing your crown, dental implants replace the root of your missing tooth, too, which provides a natural-feeling, looking, and secure solution. But what's the process?
A consultation with Dr. Hawkins will help you determine if dental implants are the solution for your smile.
If your jawbone doesn't have the density to hold a dental implant, bone grafting can help.
Dental implants are made of bio-compatible titanium posts.
Once the dental implant has fused with your jawbone, your tooth or teeth can be replaced with crowns, bridges, or a full arch.
You can get your bite back.
Contact us today to schedule a consultation with Dr. Hawkins.
With implant-supported bridges and dentures, you don't have to worry about adhesives, special cleansers, or your teeth slipping. Care for them like natural teeth.
The reasons your teeth may not stick with you for life can vary—some medical conditions can cause chronic oral infections, maybe you've suffered a traumatic injury, or it could be your enamel is thin and unable to withstand the forces of chewing, or that it's been worn due to long-term bruxism. Whatever the reason, there is still hope for your smile.
Implant-supported bridges and dentures look and feel like real teeth.
Your new smile won't fall out of your mouth—implants are fixed prosthetics.
Your bridge or full-arch can be made of strong porcelain or zirconia for durable strength and beauty.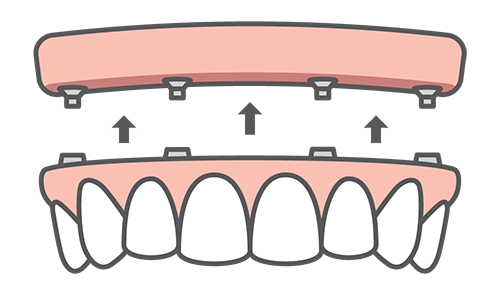 What's keeping you from improving your smile and quality of life?
Have you explored dental implants as a tooth replacement solution only to stop pursuing them out of fears the treatment and cost will be invasive and out of reach? We'd love to address each of your concerns and help you reach the resolution that will get you back to enjoying life with a strong, beautiful smile. We offer implants starting at $1,999, accept payment through CareCredit® and Lending Club, and can help you relax through the process with safe sedation techniques.
Clinical excellence and compassionate care await you.
Dr. Kasey Hawkins is a Fellow of the International Dental Implant Association and would love to answer your questions about dental implants, implant-supported bridges, and implant-supported dentures. Contact your Arlington implant dentist at Crown Dentistry today!
Go to the Top of the Page